AI enabled risk assessments
for financial institutions.
Automate complex onboarding and compliance processes
to unlock thousands of hours of lost productivity.
Schedule a Demo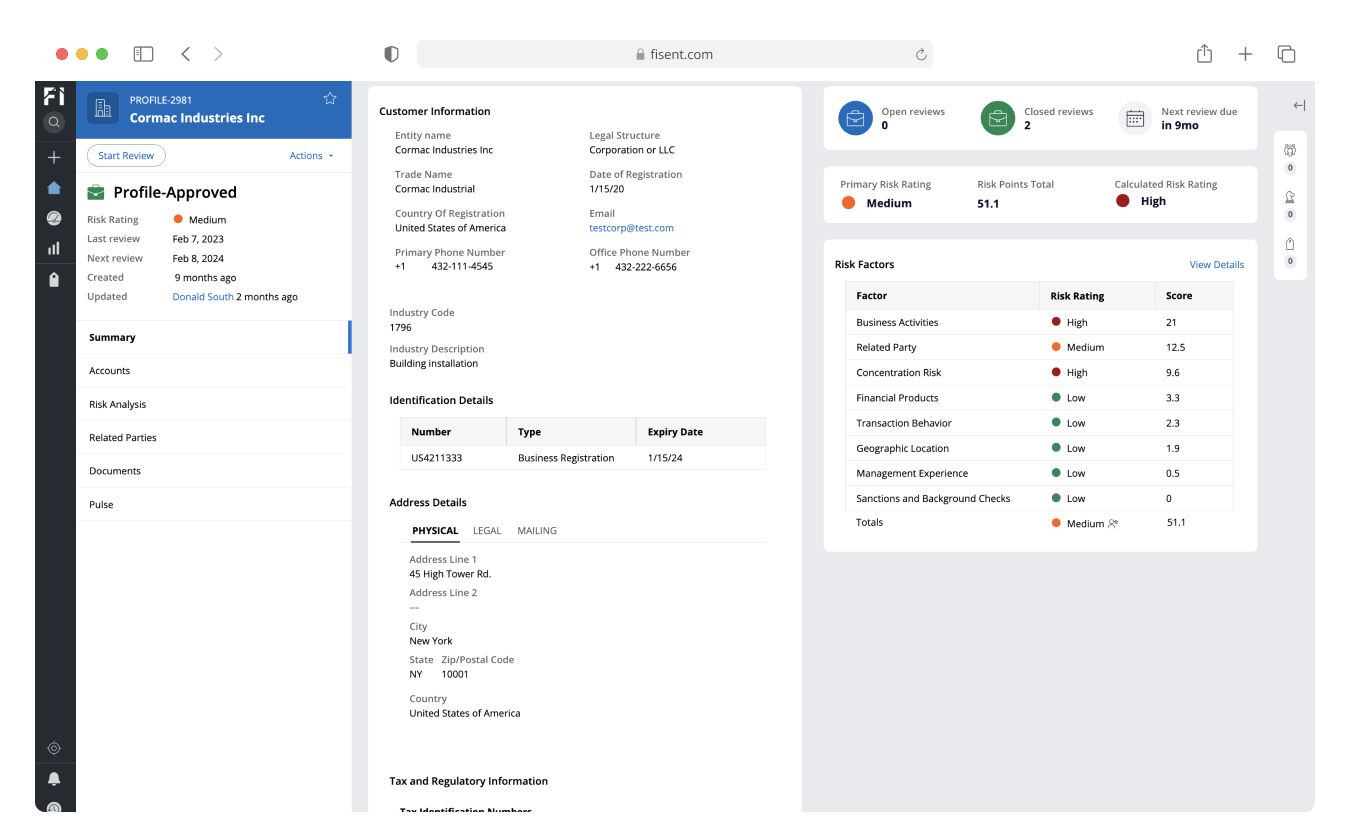 or
Learn More
Harness the latest AI technology to transform the way you work.
Fisent's DocumentAI is a revolutionary new way to leverage the latest computer vision technology in combination with GPT models to help enterprises automate business tasks that were previously thought to be impossible.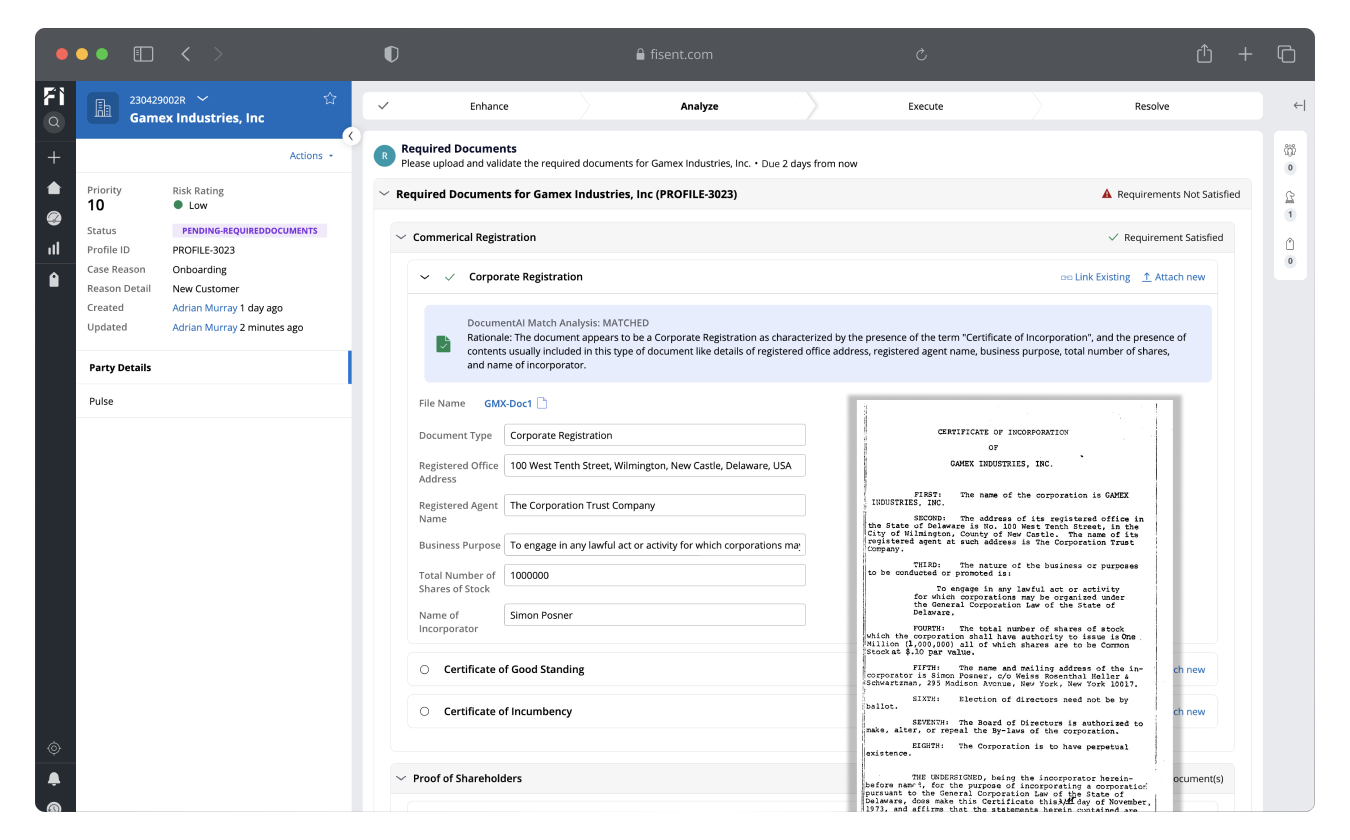 Manage complex customer risk through proprietary scoring
Each institution is different. That is why Fisent Risk is designed to be tailored to your specific customer base, business profile and requirements.
Objective scoring methods
Leverage sophisticated algorithms for computing risk and enforce defined risk parameters for customer onboarding and maintenance.
Risk factor management
Define and design risk factors specific to your institution, or use Fisent library of industry standard risk factors to get up and running quickly .
Related party networks
Build networks of related parties that drive risk calculations and enable insight across customer relationships, sectors and industries.
INTEGRATED RISK LIFECYCLE MANAGEMENT
Manage your entire end-to-end risk lifecycle through a single platform and interface
Risk should not be rocket science
Fisent Risk provides the tools you need to review and automate complex risk decisioning.
We will contact you within 24 hours to set a time and date.
Frequently Asked Questions
For more information we recommend scheduling a demo and initial risk assessment.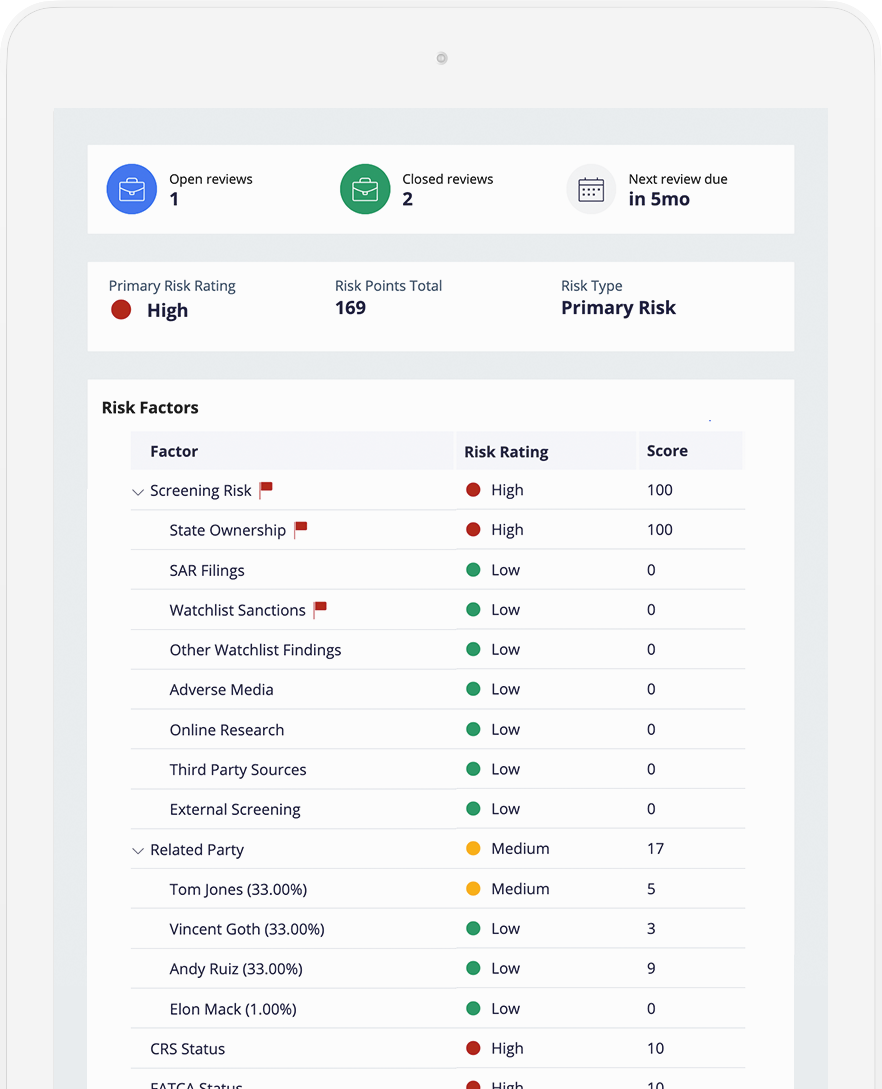 01. What type of support is included with the application?
When the application is deployed we provided complete support and maintenance for all issues via a dedicated service desk.
02. How is the platform hosted/deployed?
Fisent offers a variety of solutions for deployment, including shared cloud, dedicated cloud and even support for on premise hosting.
03. Can the risk model be customized?
The risk model is heavily customizable depending on the specific policies and tolerances of the institution. In fact it was designed this way deliberately.
04. Do you offer APIs or interfaces?
Customers can interact with Fisent Risk both as a platform, as well as by leveraging REST APIs for more complex or targeted integrations.
05. How complex is the implementation?
Fisent Risk can be implemented significantly faster than a traditional Pega application. The solution has been designed to deliver standard capabilities with minimal configuration.